Welcome!
We want to offer a safe space for our guests and members, and expect everyone to treat each other with respect.
We do not want any racist, sexist or otherwise discriminatory attitudes, actions or statements in our rooms (or anywhere else!)
If something of this nature happens to you, or you observe it, please: say something, write us an email, intervene!
---
****IMPORTANT INFO****
Zeit für Zirkus is coming to Vuesch!
Lots of exciting events and workshop to enjoy – take a look here for more info.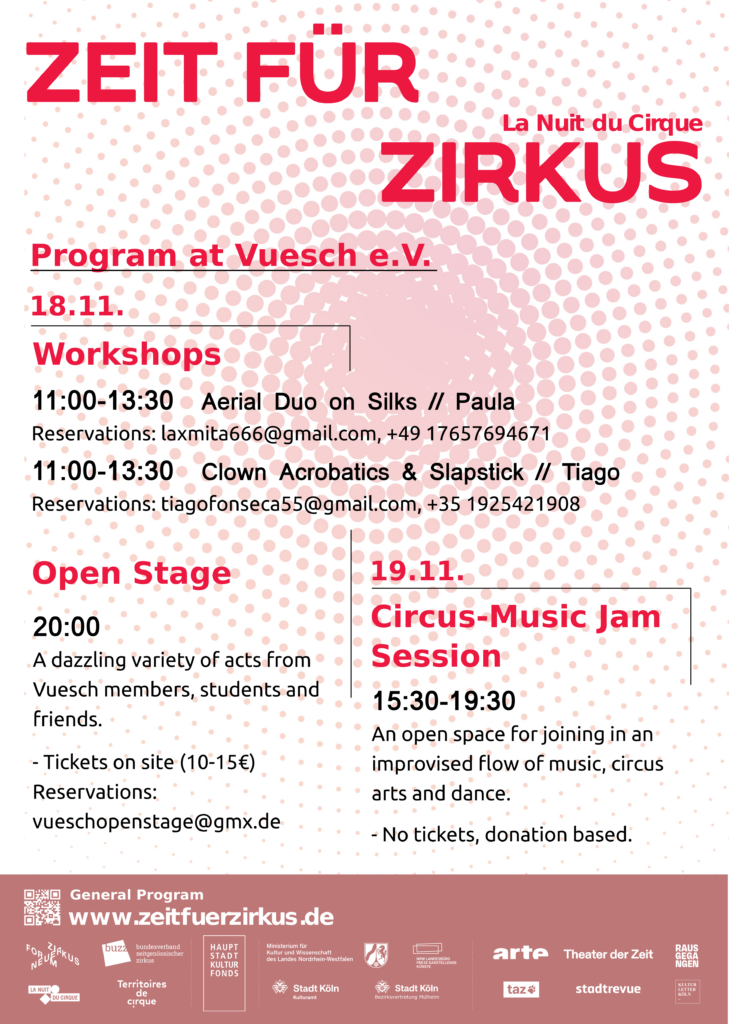 ---
NEW AERIAL CLASS AT VUESCH
Mixed Equipment Aerial – All Levels – Wednesdays 10 – 12 – STARTING OCTOBER 11th 2023
Do you want to level up your aerial skills? Increase your strength? Have a chance to try multiple apparatus? Get a solid basis in the air as a beginner?
Jessie and Mareika will be alternating teaching this aerial class every Wednesday morning at Vuesch with a trapeze, an aerial hoop, a rope and a silk rigged.
The first hour will focus on body preparation – expect one hour of strength training, stretching, and technique work, with options suitable for beginners right through to advanced students.
The second hour will either be a specific creative task, or a chance to for the teacher to work individually with each student on their specific goals.
It will be your chance to ask the teachers 'can you remind me of that that trick again?' or 'can you spot me for this move?' or 'what can I do to help achieve this goal, on this equipment?' or even, 'I'm a total beginner – where do I start?'. When you do not have one to one time with the teacher, you will be able to practice on whichever equipment you want, or work on the creative task that the teacher has given. Or even do more pull ups…!
Bring protective clothing that you can move in and a bottle of water.
********
Welcome to

the circus arts association of Friedrichshain / Kreuzberg.
On our website you will find all the information you require about the club structure, content, offers and how you can take part.
Come and have a look, don't be shy!